FALL 2017
Scarlet Thistle's August performance at our favorite hometown festival, JamBallah! Enjoy the formations, zils, and lovely flowered skirts from Dreaming Amelia!
SPRING 2017
A snippet from our Cues & Tattoos 2017 performance at the Emerald Vardo. This lovely and dramatic piece of music inspired the turns and cascades of movement, reflecting the intensity and emotion of the song.
FALL 2016
A couple videos to see Scarlet Thistle in action from this fall.  Enjoy this performance from JamBallah in August and the Art of Movement in November.
SPRING 2016
Enjoy this performance from Cues & Tattoos in Seattle, WA.  The troupe had a lot of fun working on the choreographed sections in the first song and playing with formations in the second song.  Also loving the sparkly duppattas we draped over our shoulders.


FALL 2015
The summer and fall were filled with fantastic performances.  Some out in public spaces an some on beautiful stages with other amazing performers.  here are some of the highlights.  Stay tuned for what 2016 has to offer!
.




SPRING 2015
Enjoy this video from our performance at Cues & Tattoos in March.  The beginning choreography breaks from our traditional improvised sets but was great fun to work with.


The early spring is upon us and that brings some of out favorite events for teaching and performance!  Traci, Tabra, and Colette just returned from the Sultana Dancer's Hafla in eastern Washington and the troupe is in rehearsal for Cues & Tattoos in Seattle at the end o the month.  Both provide a great opportunity to see all our favorite performers and check in with our extended dance family.  Closer to home, we're hosting a Student Salon on April 18th at Datura.  A great way for student dancers to get up on "stage" and practive what we do in class.  Here is an image from the sword workshop this past weekend – we love 30 swords balanced at once!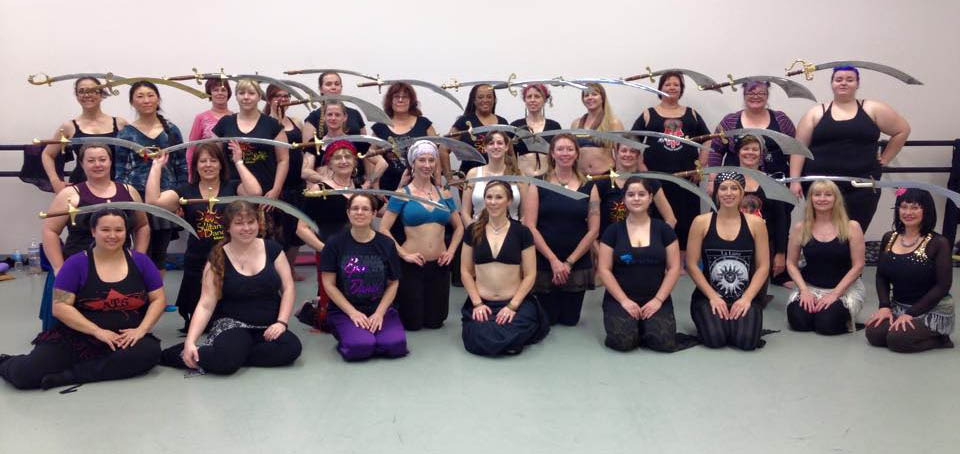 ---