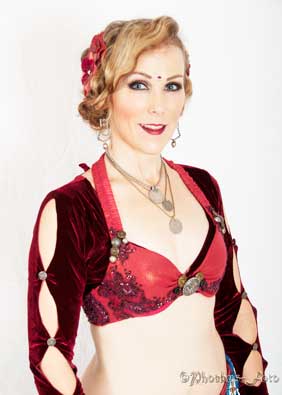 COLETTE has been belly dancing for 17 years, starting with her first class with Carolena Nericcio-Bohlman of FatChanceBellyDance® (FCBD®) in San Francisco in 1997.  She was immediately intrigued by the group improvisational aspect of the dance and was invited to join the professional troupe at the start of 2001.
During her tenure with FCBD, Colette participated in numerous shows and videos, including "San Francisco Beledi" and "Tribal Basics, Vol. 7", and multiple performances in the renowned San Francisco Ethnic Dance Festival.  She was trained by Carolena to teach at the FCBD studio in 2002, teaching weekly classes of all levels, and had the opportunity to FCBD workshops nationally and internationally.  Colette has completed FCBD's General Skills, Teacher Training I & II, and is a FatChanceBellyDance Sister Studio.
In 2008, Colette established Scarlet Thistle Studio in Hood River, OR as her home base for teaching.  The following year she founded Scarlet Thistle Belly Dance, a performance troupe that performs at festivals throughout the Pacific Northwest.  In 2011, Colette became the resident ATS® instructor at Datura, Rachel Brice's studio in Portland, bringing over a decade of belly dance teaching experience to both studios and to workshops throughout the area.
Colette has studied at the Suhaila Salimpour School of Belly Dance, trained with Mira Betz in Mira's weekly classes and has completed multiple zil and rhythm workshops with the group Helm.  In 2015 she completed the third phase of Rachel Brice's 8 Elements™ approach and is a Certified Practitioner of the 8 Elements of Belly Dance.
---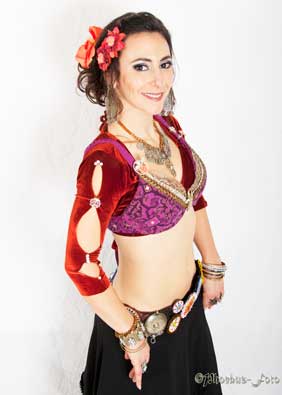 DEBI – Dance has always been an integral part of Debi's happiness in life.  She dedicated herself to Tribal Style Belly Dance with Colette and Scarlet Thistle when the troupe formed in 2008, after discovering the welcoming, community-focused and supporting environment this style of dance encourages.  She is thankful everyday for the gift of her teacher and this troupe and their dedication to personal and collective growth.  When not in dance costume, Debi can be found in a dirty pair of Carhartts doing trail work, farming and raising chickens, or otherwise suiting up in synthetics to bike, telemark ski, snowboard, hike, and garden.
---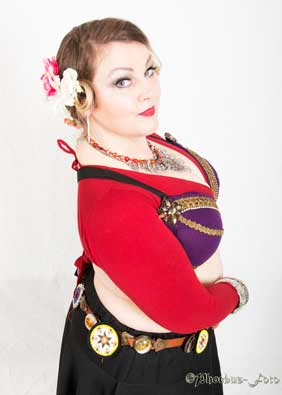 MARGARET – A lifelong dancer, Margaret brings years of improvisational Tribal Style skills to Scarlet Thistle.  A dynamic and versatile performer, she graces the stages and dance floors of Portland as a soloist and also in groups.  Margaret's powerful emotions and ability to perform to music from all over the world, combined with her vast costuming knowledge, make her a joy to watch.  She has been performing in the Pacific Northwest for decades, knows her way around whiskey and jello-shots, and just might give you a couple lines of poetry in a Scottish accent to see if you're paying attention.
---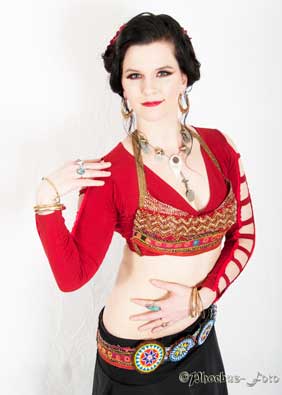 TABRA – Tabra is a professional performer and full time student of Belly Dance.  With a strong passion for her art and dedication to education in all area's of her dance form, Tabra's performances are an eclectic mix of American Tribal Style® (ATS), Fusion, and Cabaret.  Currently she is a Level II 8 Elements Certified student under Rachel Brice, who she continuously studies with, an ATS® student under Colette Todorov of Scarlet Thistle and Datura, and a cabaret student under Claudia of SoulFire.  At the start of 2015, Tabra completed ATS® General skills, both Classic and Modern, with Carolena Nericcio-Bohlman.  In addition to her solo work, Tabra is a member of Scarlet Thistle and has been seen dancing with Rachel Brice's Datura project.  More about Tabra.
---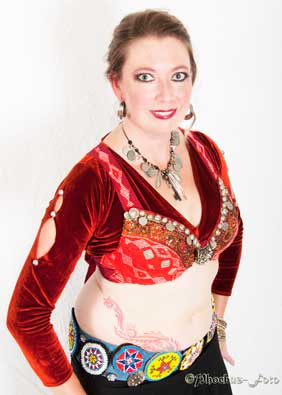 TRACI – In 2003 Traci stumbled upon a belly dance class at her local community center and, on a whim, signed up with a friend.  It was there that her first belly dance teacher, Severina, introduced her to the world of improvisational tribal style and encouraged her to continue to study at the Gypsy Caravan Studio, where she explored classes and was delighted to perform with her first tribal troupe, the Urban Berbers, until 2008.  After a few years of irregular study with a variety of teachers, Traci found her new dance home with Colette Todorov at Datura in 2011, joining Scarlet Thistle shortly thereafter.  In 2013 Traci completed Rachel Brice's 8 Elements training and has received her "Certificate of Initiation" and in 2015 she completed Carolena Nericcio-Bohlman's training for ATS® General Skills, both Classic and Modern.
Though she will always love a good choreography, Traci has grown to deeply appreciate the instantaneous group creation that comes with improvisational dance.  That, and the incredible people of the local dance community, have kept her chasing belly dance classes for nearly a decade.  When not dancing, Traci finds joy in cooking for her friends and family.